I absolutely LOVE TrustedHousesitters.com
I've gotten to stay in BEAUTIFUL homes across the country (and soon, around the world) for FREE. Because me, and my lovely boyfriend, Andrew, have flaw-free reputations and we love taking care of homes and animals.
Hm, but here's the thing. TrustedHousesitters.com could use some work. I GUESS they're developing a new version of their site. It really isn't that great, compared to, say, airbnb.com, right now. Your only option, right now, is to just search on their website, or to get all-or-nothing e-mail updates. They don't offer any in-site filters, nor do they allow for e-mail update filters.
So, if you were to opt-in to  the e-mail updates, you're going to get be getting 20-50 new messages a day. Are you really planning on going to the UK or to British Columbia anytime soon? Nah. I wanna go to where I'm able to go in 2-ish weeks notice. No one can take the care to pay attention to each and every one of those locations and dates, and choose accordingly. It's just too much information.
Here is a great solution in the meantime.
At least, until TrustedHousesitters.com makes their own product to deal with this.
Here is my Gmail filter!! DOWNLOAD THIS!!
Customize TrustedHousesitters.com E-mails to your needs.
Upload that .xml file in your Gmail settings. Click the Gear image in the upper-left corner of your Gmail.
In Settings, click on "Filters and Blocked Addresses"…
In the above screenshot you can see where it says "Import Filter"
Import the XML file and then you will see it in your filters.
Click "Edit"
Then you will see something like this.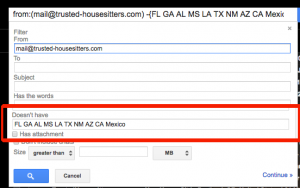 In the "Doesn't Have" area, you will enter what you DO WANT TO SEE IN YOUR INBOX.
It sounds like reverse psychology, because it is. Just trust me, this is how it works. I recommend entering state abbreviations instead of cities names, just so you know. Unless you're being super specific, you never know if you could miss out on an amazing house-sit in some off-brand not-metropolitan city that is just as cool as the real thing.
Then, click Continue.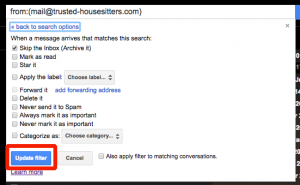 You don't need to edit anything else. Just click update filter.
HOORAY, now you will only get updates about shit you wanna hear about.
If you ever want to change this, just edit the filter to whatever states or countries you actually want to go to!
Because no one ever wants to go to Manitoba! Ever!
Love you! Hope someone finds this filter very useful.